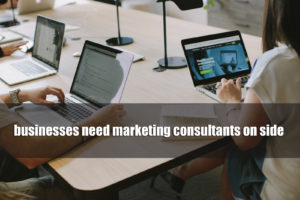 For many businesses both large and small, marketing is a necessary yet slightly tiresome task. When your core, day-to-day activities drive most of your business' profit, it can sometimes seem like a waste of time to focus an extra hour of the day on marketing activities. But that's not the case, marketing is essential to practically every business, and there's no way of getting around the importance it can play in the way a firm's success pans out. That's why all businesses should strongly consider investing in a marketing consultant who can help them get their new business operation running smoothly. Whether it's a social media maestro to help your firm go the distance on Facebook or a B2B expert who knows how to get sales sorted out, there's a marketing consultant out there for you.
Make the most of the internet
Every business owner knows that the internet is full of potential to both change how our society works and how our economy functions too. Fewer business owners, however, know how to make the most of the internet for marketing purposes. Employing a marketing consultant provides a great return on investment then, because they have the skills to get into the nitty gritty of the marketing platforms on offer.
Even if you're familiar with the basics off or instance Google advertising, it's often a good idea to get an expert consultant in to help you push the potential of your business' ad even further. That's because there are all … READ MORE ...