Most housewives who are not bothered by household affairs, want an activity that generates additional income. Or a housewife who does have a hobby of making a pastry and wanting to start a culinary business that can earn income. Usually the constraints that arise are the cookware needed in making a cake. Why not try homemade cake recipes without oven that just use the cooking utensils that are often used daily.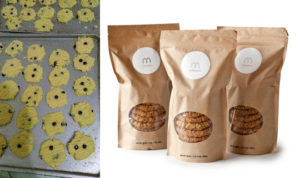 Every household, usually want a snack that can be provided to entertain guests atmosphere of intimacy can happen or just to snack while watching television. The food provided is usually in the form of snacks or pastries, mostly cake that could be put in a jar and can be closed, if the cake is still a lot, it can be presented again later. It could be a business opportunity for those of you who's hobby is cooking and baking as culinary business. Friends or relatives who do not like to cook or is overburdened could be a potential prospect.
Hommade cake recipes are not as complicated as imagined, very simple and do not need fancy kitchen appliances, just a covered pan can be used instead of an oven. But there are some things that must be considered in order to make cake (pastry) to be successful.
As for some things to avoid in cooking in pastry making is the use of too much sugar, cake dough processed too long, too little egg white, wrong selection of baking powder, eggs … READ MORE ...